Personal History of Shinichi Suzuki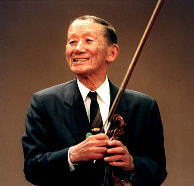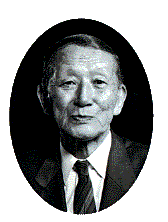 1898
On October 17, Shinichi Suzuki was born in Nagoya. His father, Masakichi, was the first to make violins in Japan, and in 1888 founded a violin factory in Nagoya.
1916 age 18
Graduated from the Nagoya Commercial School.
1920 age 22
Shinichi Suzuki went to Tokyo. He stayed at the home of Marquis Tokugawa, and studied the violin under Koh Ando (younger sister of Rohan Koda).
1921 age 23
Shinichi Suzuki left Japan with a group with Marquis Tokugawa to travel around the world. He decided to stay in Germany, and this was the beginning of his 8 year study in Berlin under Karl Klingler (instructor of Hochschule f Musik).
Shinichi Suzuki left with TERI letters and a card from Karl Klingler that were written to Suzuki when he was studying with Klingler. These were messages about lesson dates and the pieces that he wanted Suzuki to study with him.  »click to enlarge( left / right )
Dear Mr. Suzuki  September 27, 1927
I also returned home yesterday.
And, I would be pleased if you could come to lesson at 9:00
on Thursday.
I look forward to seeing you.

  With my warm regards,
  Karl Klingler
Dear Mr. Suzuki,
If you are able to come to lesson at 5:00pm, Monday, January 26, I would be happily waiting for you. As for the pieces to practice, I would recommend Ballade and Polonaise by Vieuxtemps.

 My warm regards,
  Karl Klingler
  January 22, 1925
| | |
| --- | --- |
| Shinichi Suzuki kept a card he received from Dr. Albert Einstein.The message on the card says, "Dear Mr. Shinichi Suzuki,For our remembrance Albert Einstein." »click to enlarge | |
1928 age 30
Shinichi Suzuki married Waltraud Prange and returned to Japan. There in Japan along with his three brothers "the Suzuki String Quartet" was formed, and they started giving concerts in various places. From this time on, Suzuki worked as an instructor at the Kunitachi Music School.
1931 age 33
With Alexander Mogilevsky, a famous Russian violinist, Suzuki assumed the office of professor at The Imperial Music School established in Tokyo. Later, Suzuki became the President of this Music School.
1937 age 39
Around this time, Suzuki gave violin lessons to Toshiya Eto, Koji Toyoda, the Kobayashi brothers (Takeshi and Kenji), Hidetaro Suzuki, and Yoko Arimatsu at his home.
1943 age 45
Shinichi Suzuki moved to Kiso Fukushima, Nagano-ken.
1946 age 48
The Matsumoto Music School was established in Shimoyokota, Matsumoto. He was named director, and then moved to Matsumoto-shi. The original name of the association was "Zenkoku Yojikyoiku Doshikai".
1948 age 50
"The Doshikai" was renamed "Talent Education Research Institute".
1949 age 51
There were 35 branches of violin classes all over Japan, and 1,500 children were studying.
1950 October, age 52
"Talent Education Research Institute" became a corporate organization authorized by the Ministry of Education.
1951 August, age 53
. The first summer school was held in Kirigamine, Nagano-ken. 109 children and 11 instructors participated from 25 chapters nationwide.
1955 March, age 57
The first National Convention (Grand Concert) was held at Tokyo Metropolitan Gymnasium. An ensemble of nearly 1,200 child-violinists played in unison, in the presence of the Crown Prince and other royal members, as well as foreign diplomatic corps.
1964 March, age 66
The first U.S. tour by 10 Suzuki children took place. They aroused the so-called "Suzuki Impact " in the music education circle all over the United States.
1966 October, age 68
The 2nd U.S. tour took place. The children visited 19 cities and were received enthusiastically. Thereafter, this tour repeated 30 times until 1994. Also, Suzuki published "Nurtured by Love " this year through Kodansha.
1967 age 69
Talent Education Research Institute was completed.
1975 age 77
The first World Convention was held in Hawaii. More than 870 people from Japan, The United States, Australia, etc. participated.
1978 April, age 80
Suzuki took 100 Japanese children to the U.S., and on April 9, a friendship concert was given with one hundred American children at the Kennedy Center in Washington, D.C..President Carter, who was in the audience, gave encouragement to the 200 children, and made every possible effort to encourage international friendship.
1979 age 81
The City of Matsumoto honored Dr. Suzuki with honorary citizenship.
1983 July, age 85
The 6th World Convention was held in Matsumoto. 1,500 students, parents, and instructors from 22 countries all over the world participated and received lessons from Dr. Suzuki.
1986 December, age 88
To celebrate Shinichi Suzuki's 88th birthday, a ceremonial concert entitled "Shinichi Suzuki and twinkle players" was held in Suntory Hall.
1991 age 93
A special issue of the British Sunday Times selected 10 Japanese for the 1,000 persons who made every possible effort to enrich the 20th Century. Shinichi Suzuki was among them.
1994 age 96
A concert to celebrate Shinichi Suzuki's 95th birthday, was held at Suntory Hall.
1996 age 98
Shinichi Suzuki Museum opened in Matsumoto.
1997 age 99
The International Academy of the Suzuki Method opened.
1998 age 99
Shinichi Suzuki passed away on January the 26 th at the age of 99.
↑top