"Talent Education" Expands Throughout the World
The popularity of the"Suzuki Method"in countries outside of Japan is epoch-making. In the United States alone nearly 300,000 children are studying through the"Suzuki Method".
"Talent Education"was first introduced to the United States in March of 1964 by the first U.S. tour group of 10 children of the"Talent Education Research Institute". However, the beginning spark took place at Oberlin College in Oberlin, Ohio. While studying at Oberlin College, Mr. Kenji Mochizuki (at present the director of the"Shinichi Suzuki Memorial Museum"in Matsumoto, Japan) presented a film of an ensemble of 500 children playing the Bach Double Violin Concerto which was held at the Tokyo Metropolitan Gymnasium in March, 1955. The impact of this film resulted in the aforementioned first U.S. tour. It is said that this concert tour had an unprecedented impact on the American String Teachers Association. Two years later, in October of 1966 and again in 1967 the 2nd and 3rd U.S. tours took place. This tour of "10 Suzuki Children"was conducted 30 times there after up until 1994. Consequently the "Talent Education"movement gradually blossomed in the United States and from there spread throughout the world.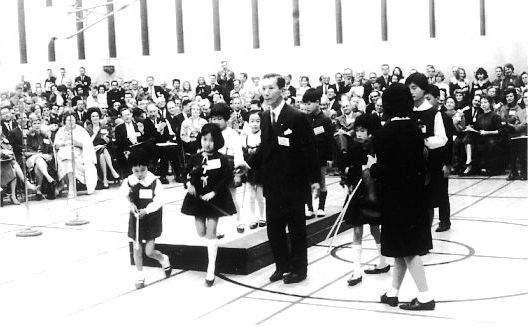 The first U.S. tour group of 10 children and Dr. Suzuki in 1964.
The Talent Education Philosophy has attracted more than 200 overseas students to come study in Matsumoto where the headquarters is located. After studying in Matsumoto these students have gone on to become leaders of the Suzuki Method in their own countries."Talent Education"which was born in a small oriental country grew so rapidly in many countries throughout the world that instructors from the United States, United Kingdom, Canada, France, West Germany, Denmark, Switzerland, Australia, and Japan who attended the 3rd Talent Education World Convention which was held at the San Francisco State University in August of 1978 proposed that a world organization of the Suzuki Method be established. The International Suzuki Association was established in 1983.
↑top